0.7.2: Lots of (mostly) small (mostly) visual changes
---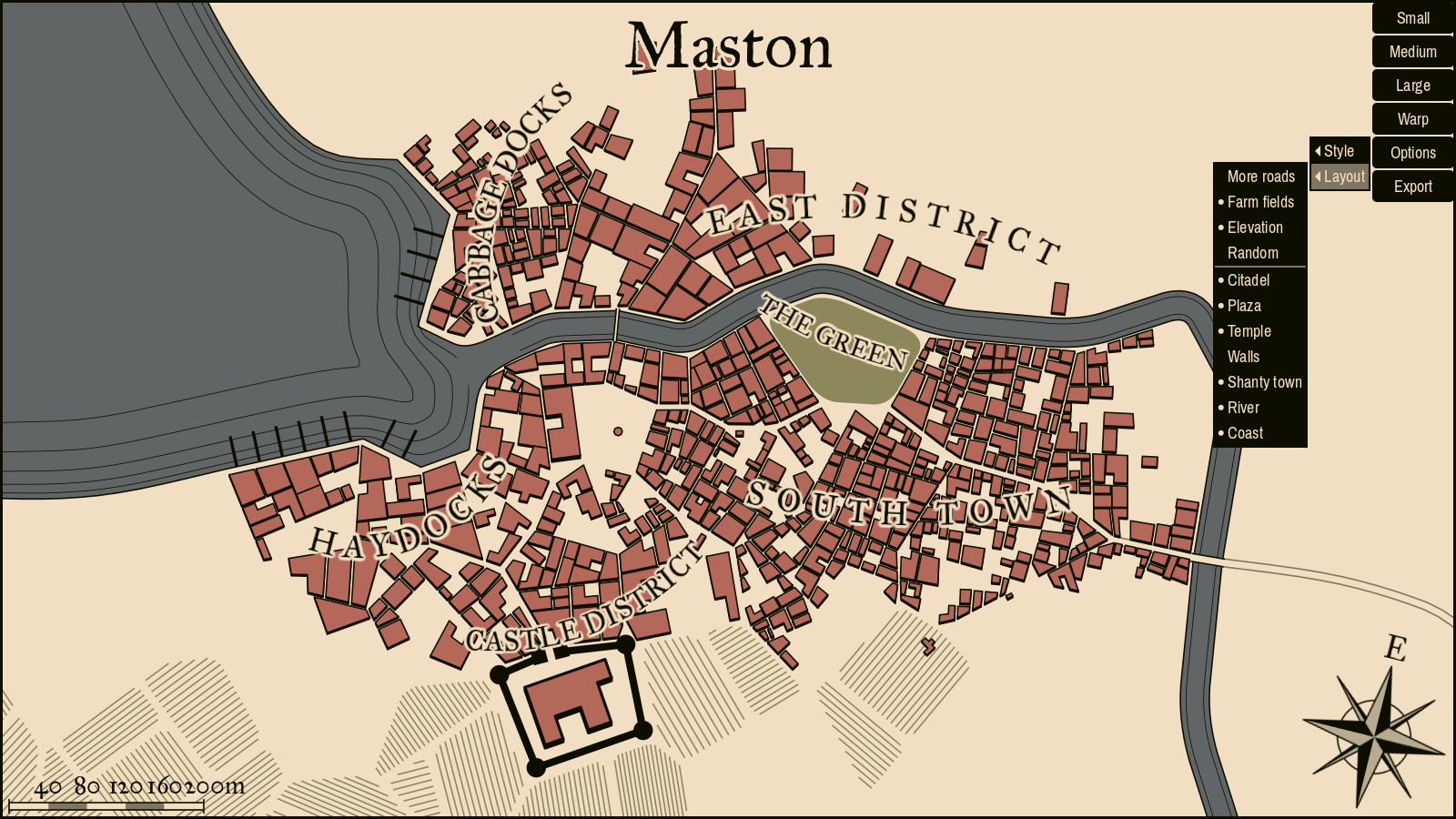 This update is about making the generator look better. The changelog is quite long, so here I am going to list only the most important changes.
Extended palettes
Palettes are extended from 4 colours to 7: background, light, medium, dark, roof, waterand green. Old custom palettes should work as before.
Vector font in UI
This should make the whole UI more readable and compact. It also fixes the issue with characters outside of the Basic Latin range.
Compass rose
The compass rose indicates an orientation of a map relative to the cardinal directions. If you rotate a map with the Warp tool, the rose is rotated as well. Ctrl+click the rose to reset the orientation. Shift+click the rose to reroll its shape.
Updated scale bar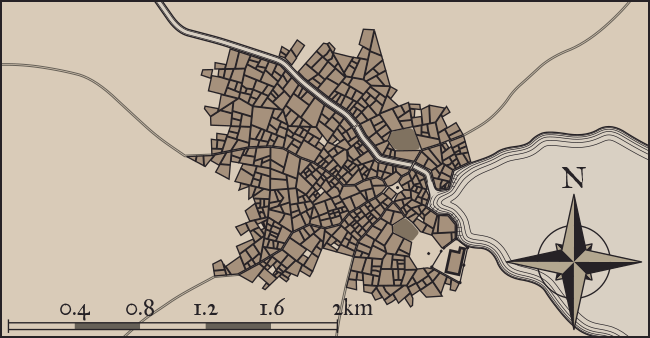 There are now 2 scale bar designs, which can be switched between by shift+clicking the bar. The scale bar switches to miles or kilometers when a city is large enough.
Improved framing
The generator now chooses a "window" for a city more correctly. It is more visible on exported images, especially when there are large sprawls along roads or a river.
Raised roofs
Buildings can be drawn in a kind of very simple fake 3D style. It is a purely cosmetic feature for those who tired of the utterly flat default view.
"Thin lines" option
This option now affects not only a map itself, but also... overlays(?) - the scale bar, the compass rose, the legend etc. Also the thickness of lines doesn't depend on a map scale, so you may want to choose "thin lines" for large cities.
Other changes
Better integration with Azgaar's Fantasy Map Generator, improved buildings generation, Warp mode is optimized (and uglified), the legend is no longer movable, but looks a bit nicer, new font for labels, an option to filter out triangular buildings is added, water is drawn slightly differently, more than one park can be spawned in a city, they are drawn differently and can be marked as separate districts, exported SVG files are now smaller...
What's next?
The plan is still the same as I described in the post on Patreon☕: in the next update (0.8.0) I'll try to implement "curved streets". This will need very serious changes in the current model and algorithms, so there is a non-zero chance of failure. But I think it's worth it, so let's hope for the best :)